Ageless Forever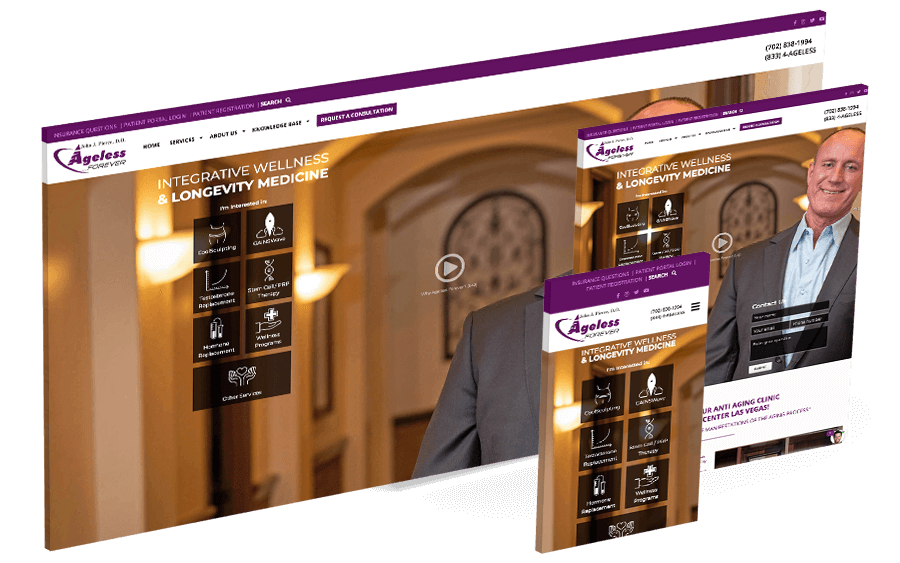 HIGHLIGHTS
• Modern-Looking Website built from scratch
• Custom-Made "I'm Interested In" Service Boxes
• Virtual Office Tour Integrated into the homepage
• Seamlessly imported a website with lots of pre-existing pages and links with minimal impact on well-established rankings.
2233% increase in leads after website redesign.
THE CHALLENGE
Ageless Forever is an Anti-Aging and Wellness Clinic located in Las Vegas. It has given its patients top-of-the-line care for more than 20 years, and it was in need of a new website that embodied its' pursuit of excellence. Since the previous website was built on the not-often used Joomla platform and had many existing pages, we needed to build a site on Joomla that had minimal impact on their site rankings. They were also in need of a solution that was mobile-friendly, as the previous website had limited mobile functionality.
THE SOLUTION
This was a particularly challenging website since we had no previous experience with building one with Joomla. However, we pride ourselves in being able to adapt to new situations and create an effective solution. We were able to accomplish this and create a Joomla website from scratch. The mobile design was also a big focus for us in the project, and we are glad to have delivered a website that was certified mobile-friendly by Google.
THE RESULTS
Since launching in August of 2019, Ageless Forever saw a dramatic increase in contact form submissions.
Before:
Dec 18th, 2018 to August 22, 2019:
9 contact form submissions, or .03 leads per day.
After:
August 22, 2019 to December 10th, 2019:
75 contact form submissions, or .7 leads per day
Ageless Forever has been elated with the results, and we continue to optimize their website and digital marketing to increase the number of conversions that they receive.